Welcome to another Atlas Professional Services Team Member Spotlight! Here, you get to know more about our staff – from their career backgrounds and business advice, to their favorite hobbies, music and more – in their own words. This Month's Spotlight is on Business Development Representative Mallory Mill.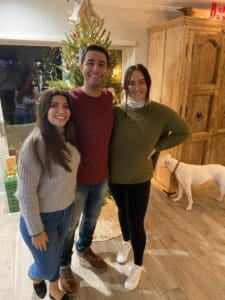 What are some small things that make your day better?
First and foremost, the fresh smell of coffee in the mornings, and that first sip. Nothing beats it. My dogs always make my days better, even though they are not small. Being able to laugh and joke around with my co-workers, while at work, definitely makes the day better and faster, too. Lastly, being able to go to the gym and ensure I am healthy.
Tell us a little bit about your career and educational/professional background.
Well, my career is just beginning, as I recently graduated from University of South Florida St. Petersburg in May 2019. My educational background is a Bachelor of Science in Business with a focus in Entrepreneurship, and both of my parents and grandparents are/were successful entrepreneurs.
Where would you spend all your time if you could?
If I could spend all my time in one place, I would first ensure my friends, family and dogs would be present. I wouldn't want to spend all of my time alone! So, one place I would spend all my time would be at home. But it would have to be a house that could fit my family and also have room to entertain. It would also have a large backyard for my dogs to run free and get all their energy out.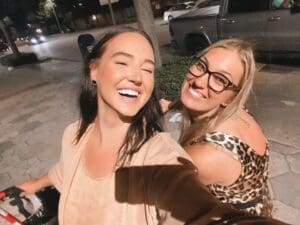 What pets did you have while you were growing up?
Oh, goodness. I don't even know if I remember them all. But my sister was very big on having exotic, weird animals, and reptiles. So, there were a lot in the house. We had hamsters, rabbits, three dogs, a sugar glider, snakes, turtles, bearded dragons, literally, you name it! But now, since I still think I am "growing up," I currently have two dogs. Alfie, a blue merle Border Collie, who is almost 9 years old, and Aida, a rescue Pitbull who turns 4 this year.
What's your favorite sports team and/or sport?
Well, I grew up competing in gymnastics and cheerleading, so tumbling and flipping is definitely more my speed than a ball getting thrown or kicked around. But I'd have to say, gymnastics is definitely my favorite sport. I like how it is an individual sport, but also a team sport as well. You compete for not only yourself and your own score, but also your team. I think it teaches you how to be a part of a team, but also how to prioritize competing for yourself, too. A great sport all around.
Lightning Round with Mallory Mill:
One word to describe you: Empathetic
Your Spirit Animal: Dog
Favorite Movie: Savages
Favorite Song: Halo by Beyonce or Iris by The Goo Goo Dolls
Favorite Holiday:Thanksgiving
Favorite Place: My house with my doggies