Hone your competitive edge with IT you can count on.
It's no secret your IT is important. But do you know how to keep it secure and running efficiently? With Atlas' managed IT services, your organization can achieve high-quality IT management without busting the budget. 
We offer the following managed IT services:
Reduce complexity with Atlas' managed IT services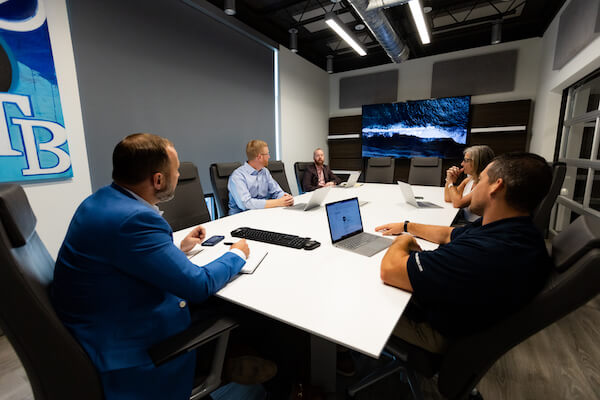 Atlas Professional Services' managed IT services keeps all your critical components secure and running smoothly. This includes:
Network devices

Operating systems

Servers

Firewalls

Email

Even your phone systems
Want to outsource much of your infrastructure management? Or simply optimize the systems already in place? We provide personalized managed IT services that save money and manpower.
Your technology infrastructure is in good hands with Atlas Professional Services. So, grow with complete confidence, knowing someone is there to resolve issues and support your every move—today and into the future.
Any downtime at all is a loss of productivity and revenue. Thankfully, Atlas' proactive network monitoring decreases and even eliminates downtime for your business.
As your business grows and goals shift, staying up-to-date with the latest technology becomes increasingly important. Therefore, our managed IT services are designed to ensure that your equipment and software run flawlessly and are current with any performance-driving updates.
Have an in-house IT team? No problem. Think of us as an extension of your existing IT resources. Co-managing or entirely outsourcing managed IT services frees up your existing tech team's time. And, it's often more affordable than hiring additional full-time employees.
Look to us for quick responses to any technical problems, including computer repairs and network management. Then, sit back and relax while we quickly resolve issues.
Austin was very helpful and was able to work around my ever-changing schedule. He completed all the updates and upgrades in a very timely manner and let me know exactly what was going on. The timeframes provided were accurate and overall I am very happy with the level of service I received.
Jeff was able to come out and set up our SSL VPN in the exact amount of time he said it would take. He's always on time to the job—this is the second time he's helped us—and is always very professional and he always gets the job done. On top of that, while he's fixing the problem he takes the time to educate us on what he's doing and why he's doing it.
Alex did a great job today and Friday with my new computer. He has a great personality and listened to the issues I was having and quickly resolved some things on the new computer we just set up.
Evan is great at communicating with us. He finds the level of understanding we have of technology and speaks to us on that level.
Ben is really terrific. He is extremely timely in his responses—regardless of the time of day he receives the inquiry—and he handles the inquiries without complaint. He's a terrific ambassador for Atlas.
Carlos worked with the KIP technician to get the new printer and drivers installed on the server and to get the scan-to-email capability up and running. He stayed on the line with the tech until everything tested out and was working well.
The straightforward approach and honesty was a refreshing change. I have been looking for IT support for my new business and Atlas was the first company that didn't attempt to sell me a service which was not the right fit for my organization and went out of the way to recommend the right company for what I was looking for. I can't thank your team enough and will keep your information for a referral in the future.
Ben provided very quick service when we contacted him about this issue that we had originally opened with Atlas customer service. Ben is always very professional, courteous, and knowledgable about these issues. We were in need of very quick service because it was an issue with an important client and the issue was resolved by Ben quickly and efficiently.
No suggestions. Fabulous communication. The problem was not only fixed but the technician took the time to explain to me why/how things went wrong. Everyone was friendly and patient. Things were handled very quickly. BRAVO!
Jeff is a brilliant problem solver! He had been working all week on a large-scale project in Tampa. When I yelled, "Help!", Jeff devised a software plan ON THE WAY TO MY OFFICE! One word describes his level of network and software solutions—brilliant. Since Jeff finished his work with us, our cloud data backup has worked perfectly. Thank you, Jeff. Thank you, Atlas!
Kudos to Vi, Robert, Carlos, Alex and the wonderful team at Atlas! Thank you for your courtesy, patience and understanding! It sometimes gets frustrating for us at the ground level, when our IT structure doesn't seem to work right. The Atlas Team has always handled our tickets promptly and efficiently. I can't think of any suggestions, other than keep up the good work and spirit!
Find out how managed IT services from Atlas Professional Services can help you leverage technology and reach your goals.