Market Development Director Kristin Johnson Joins Nonprofit Board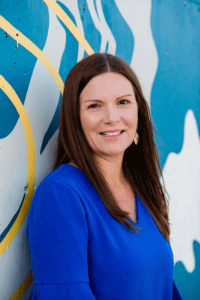 Kristin Johnson, Market Development Director, Managed Services at Atlas Professional Services, a leading IT company in Tampa Bay, has joined the board of directors for nonprofit Lighthouse for the Blind & Low Vision. She will also serve as co-chair of the organization's marketing committee.
"Macular degeneration runs on both sides of my family – one of my grandfathers is legally blind because of it – so this cause is important to me personally," said Kristin said, whose current board term will last three years. "This also was a natural fit because the organization incorporates so much technology into its services, and I work for an IT company in Tampa Bay."
About Lighthouse for the Blind & Low Vision
The services offered at Lighthouse for the Blind & Low Vision help to maximize independence and provide employment opportunities for persons who are blind or visually impaired. They include rehabilitation and vocational training programs, public education programs, adaptive aids and appliances, and more.
The agency currently serves over 1,000 clients of all ages residing in Hillsborough, Polk and Hardee counties. It relies on funding from foundations, grants, individual donors and annual fundraisers. For example, "Dining in the Dark" is an event that provides a unique sensory experience, as guests dine blindfolded. Further, the organization provides on-site services in Tampa and in Winter Haven, Fla.
"The Lighthouse for the Blind & Low Vision is excited to have Kristin Johnson join our board of directors," said Sheryl Brown, president and CEO of Lighthouse for the Blind & Low Vision. "Her experience in marketing is so welcomed. We look forward to her assisting us with a much-needed ongoing marketing plan."
An IT Company in Tampa Bay that Supports Nonprofits
Community involvement is important to Atlas and our team. In addition to our team members serving on various boards, Atlas and its employees support many charities and organizations each year. For example, we are proud to have supported:
The Humane Society of Hillsborough County
Habitat for Humanity
The Great American Cleanup
All Children's Hospital in St. Petersburg
Hillsborough County Sheriff, Polk County Sheriff, and Pasco County Sheriff Charities
Mormon Helping Hands and LDS Philanthropies
Metropolitan Ministries
Great Cycle Challenge
Children's Cancer Center
We congratulate Kristin on her new board position. We're proud of all our team members who work to make the Tampa Bay area a better place to live!