Welcome to Atlas Professional Services' monthly Team Member Spotlight! Here, you will get to know more about our staff – from their career backgrounds and business advice, to their favorite hobbies, music and more – in their own words.
This Month's Spotlight:
Kristin Johnson, Market Development Director, Managed Services
Tell us a little about your career and educational/professional background.
After graduating college with a degree in marketing, I worked for Capital One for seven years before making the choice to stay home with my kids. Once they were a little older, I went back to work doing social media and marketing for a data-exchange company in Westchase and my love for IT was born. I made a stop as the Managing Director of a small payroll/PEO for about four years, but when my CEO sold that company, I quickly got myself back into the IT space and I've been here ever since. There's something about solving everyday workplace challenges with technology that I'm really drawn to.
What's the biggest work-related challenge you've ever faced and how did you overcome it?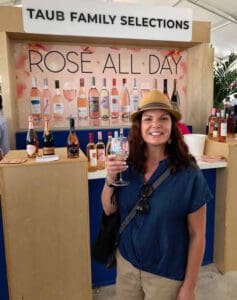 Joining the workforce again after staying home for over 10 years was challenging. I felt a little "left behind" and wasn't sure I could compete with recent college grads. I had to overcome the negative self-talk we sometimes give ourselves and look at my time out of the traditional workforce as a positive. The skills a parent develops working in the home, with their children's schools or volunteering are surprisingly similar to those used in the business world. Having a wonderful network of supporters and relationship-builders really helped me rally. I'd encourage anyone making a transition to lean on those people for advice and guidance.
What's the best piece of business advice you've ever received, and why?
It sounds so simple but learning to listen is key. When you're younger, the need to prove your worth and share your perceived expertise sometimes rears up – fight it! Listening gives you the ability to understand the person you're talking to and helps you formulate the best response. No matter whether you are talking to a client, a prospect or a partner, listening makes everyone feel valued and like their opinions/thoughts matter.
What are some of your personal hobbies outside of work?
I'm learning to play golf! My son, Brady, who is 16 plays, and it's been great to go out and play 9 with him. I have a long way to go but I can't wait to represent Atlas in a business tournament someday. I also love a museum, musical or a good book. I value my time with friends and family very much, so those things I mentioned typically involve them, too.
What was the first concert you attended? 

I'm dating myself here but it was Bon Jovi in 1989. My mom put the ticket in a cassette tape and on Christmas morning, my friends and I all got the same ticket (our parents conspired together). I was a senior and we all went to the arena in Orlando to see them and stayed at the Holiday Inn!
Lightning Round
One word to describe you: Friendly
Your Spirit Animal: Golden Retriever
Favorite Movie: Love Actually
Favorite Song: Alive and Kicking, by Simple Minds
Favorite Holiday: Halloween
Favorite Place: The beach