Welcome to Atlas Professional Services' monthly Team Member Spotlight! Here, you will get to know more about our staff – from their career backgrounds and business advice, to their favorite hobbies, music and more – in their own words.
This Month's Spotlight:
Thomas Youngquist, Systems Engineer
Tell us a little bit about your career and educational/professional background.
I was working from home, building websites and often commissioned by small businesses and friends regarding their networking issues, among other things. I was an amateur, doing little league stuff. Atlas is quickly making me a Spartan of IT – they're the 300 of this field and I'm honored to fight the good fight alongside my brothers and sisters.
What's the best piece of business advice you've ever received, and why?
I was once told by a coworker this: "I trust you as a tech because you actually care. You can't teach that. Make sure you don't lose it." I think about this every time I take on a task because there's a person on the other side of that technical issue that needs help.
What are some of your personal hobbies outside of work?
I know my work is computers but it's also my hobby. Unless I'm out running errands, I'm never more than 10 feet from a computer; the wifi coverage in my place is awesome. I'm a big fan of movies and other "sit on the couch" type media. I'm also very good at cats and dogs; they usually trust me enough to get their eye boogers which, if you know pets, is a great honor. I also enjoy shopping for new sweaters and SHORT walks on the beach because I don't like getting sweaty.
Tell us about your family and where you're from.
I have a mom, a little brother and a cat, and I love them very much. I'm originally from Minnesota, so I can do a really good impression of the accent in the movie Fargo (I've actually driven through there!).
What pets did you have while you were growing up?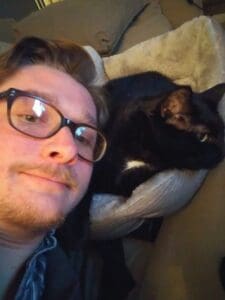 When I was very young, we had two Sharpei's, Gunnar and Sherzando. Then there was Phoebe, a St. Bernard…she was with me for a lot of my life and we loved her very much. We acquired two other rescue St. Bernards as companions for her by the name of Norman and Bruno. Norman was mistreated by his previous owners, which made us love him all the more, in an attempt to make up for that. Bruno, he just couldn't stop playing with the previous owners' horses, so he ended up with us before he caught a kick to the head. Bruno liked to look over your shoulder like there was something there when there really wasn't and you could see the enjoyment on his face when he made you look…and the embarrassment on his own when you did it back to him. Then the cats came along, Bea and Annie, watching a small black cat like Bea back a big St. Bernard like Bruno into a corner was very fun to watch. Bea is currently my only pet and there's a squirrel that I feed when she shows up.
What are some small things that make your day better?
When you can hear the relief in a client's voice that the problem is solved. Knowing I have a strong safety net in the form of my coworkers helps, too.
Who's your go-to band or artist when you can't decide on something to listen to?
Depends on what mood I'm in. Nujabes, Red Hot Chili Peppers, Queen, Michael Jackson, Breakmaster Cylinder, CCR, Biggie…tough to answer this question with one answer.
What sports or clubs were you in during high school? Did you have a favorite?
I didn't participate in sports in high school. I spent my high school years making sure I had at least one friend in every clique…it wasn't a calculated effort, I just liked talking to people. I even got along with one of the "bullies."
Where would you spend all your time if you could? 
Disney. Specifically, their Yacht Club hotel and Epcot, character breakfast every morning…pastries in France if you want…and then whatever country I want for lunch and dinner. And a stone's throw away from Universal Studios when you're in the mood for something different.
Lightning Round
One word to describe you: Hi!
Your Spirit Animal: Otter
Favorite Movie: I can't answer this, there are too many good ones.
Favorite Song: Gun to my head, I'd pick Reflection Eternal by Nujabes because it's extremely calming
Favorite Holiday: Christmas, Halloween, and Thanksgiving in that order
Favorite Place: Epcot, or my couch.