Team Member Spotlight: Project Coordinator Nathan Cartmel
Welcome to another Atlas Professional Services Team Member Spotlight! Here, you get to know more about our managed IT services staff – from their career backgrounds and business advice to their favorite hobbies, music and more – in their own words. This spotlight is on Project Coordinator Nathan Cartmel.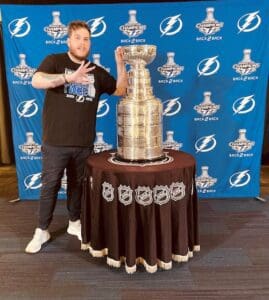 What do you like most about working in the managed IT services industry?
I love that it is an always changing, always evolving industry. There are always new things to learn and new products being developed. It also plays a key role with any business, and I like to know that we make a difference in what we do every day!
What do you like most about your current role?
I enjoy that no two days are ever the same! We work on a wide range of projects for both new and existing clients at Atlas. I also really enjoy building working relationships with our clients and working with our project team to upgrade and improve the clients' professional IT solutions and environment!
What do you like most about working at Atlas?
The best thing about working at Atlas is the people. We have a great working culture that everyone plays an important role in and fits into. It's great to be around all the awesome people we have in our office every day!
Tell us about your family and where you're from.
My accent being the dead giveaway, I am from Bristol, which is in southwest England. I am biased, but it's the best city in the UK, and I would always recommend it to anyone visiting! My parents and extended family still live in Bristol, so I always love going home to visit.
What's your favorite sports team or sport?
Sports are my thing! Being from England, my first love is football (soccer). I have supported the Bristol Rovers since childhood and would always go to home and away games with my dad. I am also a huge fan of the back-to-back Stanley Cup Champions, The Tampa Bay Lightning. I'm a current season ticket holder and was lucky enough to be there in person to see them win the Cup last year against Montreal. I am also a big Buccaneers fan. Growing up, I would always take vacations from England to Tampa to watch both the Lightning and Bucs play.
What are some small things that make your day better?
Iced coffee, listening to a favorite album, good conversations, or a happy hour beer on a Friday!
 Lightning Round:
One word to describe you: Friendly!
Your Spirit Animal: Pelican (I have a tattoo of one!)
Favorite Movie: Star Wars: Episode V- The Empire Strikes Back
Favorite Song: "Irene (Goodnight Irene)" by Lead Belly
Best Vacation Spot: Southern California
Favorite Place: The Rooftop Bar at Amalie Arena