eSmart Recycling and Atlas Donate to Friends of Joshua House Foundation
Last month, we teamed up with our friends at eSmart Recycling to make a computer donation to Friends of Joshua House Foundation Inc. The nonprofit promotes growth, stability and support to children in the foster care system.
The computer donation included 10 fully refurbished laptops and five desktop workstations. This will provide kids who are receiving support from Joshua House with access to computers for study and homework.
eSmart Recycling's role in the computer donation was providing the refurbished equipment. Meanwhile, Atlas donated resources to set up the computers and workstations. The partnership aimed to provide a sustainable solution to bridge the device gap. It also provides basic technology to kids in the Tampa Bay area who do not have access to computers.
Why the computer donation to Joshua House?
"Giving back to our community is core to who we are as a company," said Greg Zolkos, CEO of Atlas Professional Services. "We're proud to work with eSmart Recycling on this computer donation project supporting our client Joshua House. We're thrilled to help give kids the technology they need to learn and grow."
Joshua House provides resources to improve the quality of life for abused, abandoned and neglected children and teens in the Tampa Bay community. It promotes healing, growth and empowerment. The organization creates an enriching family-like environment. It's a place where children in foster care with complex traumas can heal, recover and stabilize before permanent placement.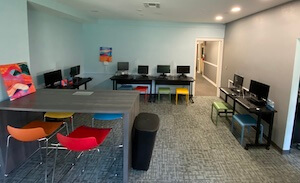 "It is an honor to join forces with Atlas and their team to support a wonderful organization such as Friends of Joshua House," said Tony Selvaggio, founder and CEO of eSmart Recycling. "We believe in their mission and the importance of technology as a foundation for sustainable education."
eSmart Recycling's mission is to recycle old technology from the best companies in the world, at the highest compliance standards. They use a portion of their proceeds to fund tech labs for kids without access to computers worldwide.